Our Techs Provided a Phenomenal Grout Cleaning, Giving This Dingy Shower in Plum, PA a New Look
October 04, 2023
Dirty grout lines can give a surface a run-down appearance. To prevent damage and minimize deterioration, homeowners must follow proper maintenance procedures. However, this task might not be as easy as it sounds. There are certain issues common methods can't address, and when this happens, the chore becomes a struggle. A resident from Plum, PA, was not happy with the condition of his shower. Over the years, the surface had decayed, and it looked dingy and unappealing. The owner tried to solve the problem, but unfortunately, nothing worked. After some consideration, he decided to look for professional assistance.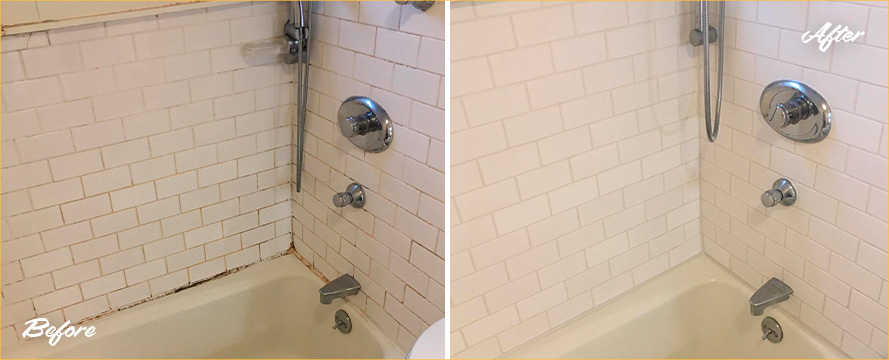 Fortunately, he only needed a quick internet search to find Sir Grout Pittsburgh. The owner went online and typed
grout cleaning services in Plum, Pennsylvania
, on his search engine, and the top results led him to our website. After browsing our site, and reading some of our blogs, he was convinced we were the best option. Hoping to solve his problem, he clicked on the "Schedule a Free Quote" button and asked for a free evaluation.
Following his request, we visited his house to inspect the surface. The owner welcomed us, and we quickly began the in-home consultation. As soon as we entered the shower, we noticed that it was in poor condition. After years of constant use, the grout had acquired an unsightly tone, and the tiles looked grungy, giving the entire surface an unsanitary appearance. To add to this, the grout was unsealed. We explained that this common mixture is porous, and it can easily absorb all sorts of external agents, which can cause further degradation. To prevent more damage, it was necessary to apply a special sealant.
Upon reaching a satisfactory conclusion, we discussed a solution with the owner. Since we had determined the restoration required professional attention, we offered our grout cleaning services. With our top-notch products and high-end equipment, we would rectify the damage, revamp the surface, and give the shower a full renovation. Before providing a quote, we performed a brief test on the surface to prove the efficacy of our methods. The owner was extremely impressed with the results, so he hired us without having second thoughts.
A few days after the inspection, we returned with everything we needed to restore the shower. To ensure the best results, we followed a thorough multi-step process. First, we cleaned the surface using our exclusive cleaner. Our product is made with top-quality ingredients and it doesn't leave a residue, so it won't cause any damage. After that, we used a steam cleaner to remove embedded dirt, and then, we addressed the grout.
When this vulnerable component is stained, discolored, or badly damaged, regular cleaning won't be enough. We painstakingly worked on the entire shower, giving the grout lines a new look. To finish the job, we followed with the sealing process.
For this task, we applied a coating of Sir Grout's flagship sealant, ColorSeal. Our high-quality product offers unmatched defense and long-term results. It wards off dirt, grime, and other external agents, reducing deterioration and making cleaning routines easy and fast. ColorSeal improves the area tenfold, giving the grout a uniform color and a brand-new appearance. It comes in a wide range of colors, so our clients can easily find the most suitable for their surfaces.
Our work yielded phenomenal results, the issues were gone, and the shower had been completely restored. It was time to call our client and show him our achievement. The renewed appearance of the surface gave the owner a wonderful surprise. He was thrilled because everything looked perfect, better than he expected. Impressed, he thanked us and assured us he would recommend our services to everyone.
Heavy wear and tear can lead to damage and quick deterioration. As a result, showers can look grungy, and they require proper care. Following our recommendations is essential to keep these challenging areas looking great. We suggested setting a weekly cleaning routine using only pH-neutral, soap-free cleaners like
Sir Grout's Natural Hard Surface Cleaner
.
Our product offers remarkable results and many benefits, and it's simply the best option in the market. It's also non-toxic and safe for everyone in the house, including pets. We don't recommend soap-based cleaners or substances with acidic properties. These products leave a sticky foam that seeps into the grout, contributing to decay and causing stains, discoloration, and several other issues. In addition, they contain harsh agents that have a negative impact on the surface.
It's also important to take measures against mold and mildew growth. These fungi are a threat, and they thrive in damp, dark areas. To prevent this problem, provide a source of fresh air by leaving the door ajar or window open, keep a light on, and make sure to dry the surface with a squeegee, a towel, or a terry cloth. Squeegeeing regularly also helps to keep the shower pristine and spotless, reducing the accumulation of dirt and grime.
As shown in the before and after pictures, Sir Grout Pittsburgh's grout cleaning services offer amazing results. Don't wait any longer and contact us today by calling
(412) 927-0202
or by clicking on the "Schedule a Free Quote" button for a free in-home consultation. If you would like to see more, check out our
picture gallery
, and please consider subscribing to our
newsletter
so you don't miss out our latest promotions and updates.