Marble Floor Shines Bright Thanks to Our Pittsburgh Stone Polishing Experts
February 20, 2023
A couple from Pittsburgh, PA, was throwing a baby shower at home to celebrate the arrival of their new baby. Everything about the property was wonderful for the event, except for their marble floor, which had an issue. This marble surface was once beautiful and gleaming. Unfortunately, it became dull and worn out after undergoing extensive use. The owners were concerned that this might result in expensive repairs. Replacing such valuable stones would take too long and be too costly, so the couple opted to hire a professional hard surface restoration company.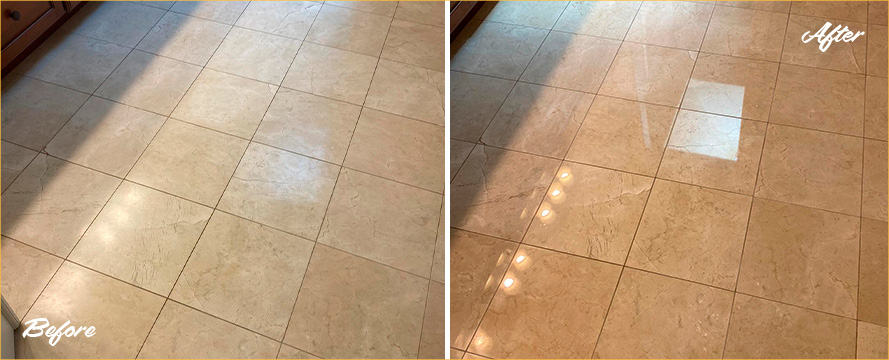 The couple went online to look for
Pittsburgh Stone Polishing
services in the hopes of solving the issues with the floor in time for the event. The top search results showed Sir Grout Pittsburgh and they immediately entered our website. They were certain that we were the ideal alternative for restoring their marble surface after thoroughly perusing our
picture gallery
and reading the positive feedback we'd gotten from our satisfied customers. They requested a free inspection by filling out the "Schedule a Free Quote" form.
We went to the couple's house after receiving their request for an in-home inspection to check the state of the marble surface. We were instantly aware of the issues. The stone had lost its inherent brilliance and elegance, giving the floor a drab appearance. We explained how aggressive cleaning products and poor cleaning practices can result in etching and other issues. It's also crucial to keep the stone completely sealed. This will prevent deterioration and add a durable layer of defense.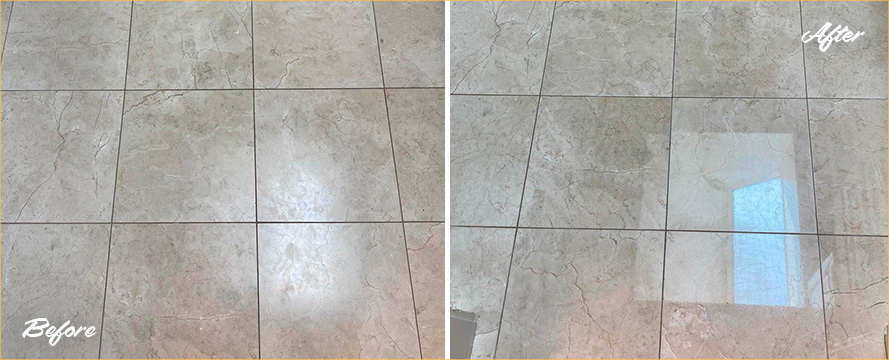 We proposed a solution after successfully inspecting the surface and addressing the issues with the owners. We concluded that regular cleaning would not be sufficient for a successful restoration. Thus, this work would necessitate Sir Grout's high-end equipment and professional methods. We offered a stone polishing procedure to repair the damage and give the marble a fresh look. Our proposal was exactly what the couple sought, so they said yes immediately.
Two days after the inspection, we returned to the couple's house to get the job done. The stone polishing procedure must follow a series of steps in order to attain our objectives. We started by washing the surface with a high-speed scrubber and a stone-safe cleaner. Our proprietary product will not harm the marble because it is produced with high-quality ingredients. We were ready to hone the stone after cleaning it. We prepared our professional equipment for this operation and ran several honing sets, increasing the grit level of the diamond on each one. We kept grinding until no signs of deterioration could be seen. The surface takes on a matte finish after honing. To restore the marble's luster, it must be polished. We employed a variety of abrasive compounds and polishing powders to reach the appropriate level of gloss.
We followed up by buffing the marble floor and applying a protective sealant. Our superior product prevents liquid absorption and protects against dirt, filth, and other external contaminants. It decreases wear and tear from everyday use, making cleaning practices simple and quick. It gives the surface a revitalized appearance and provides long-lasting results. The restoration was a complete success in the end, with the marble gleaming wonderfully and the surface looking fantastic.
It was now time to show our clients the results. The owners were impressed with their marble floor's gleaming new appearance. They were pleased because they could now host their baby shower event without worrying about the dull floor. The couple complimented us on our performance before we departed, and after thanking us, they promised us that they would contact Sir Grout Pittsburgh for future jobs.
Marble is a fantastic material for flooring. It has flair and beauty, and the stone is long-lasting. Nonetheless, the surface demands proper maintenance. The easiest way to avoid damage and degradation is to follow our advice. Setting up a weekly cleaning schedule is recommended. Use only soap-free, pH-neutral cleaners, such as
Sir Grout's Natural Hard Surface Cleaner
.
Unlike store-bought cleaners, our product leaves no residue and has lots of advantages. Soap-based cleaners and chemicals with acidic qualities are not recommended. These products can damage marble, resulting in dull stains, etching, and other complications. Maintaining the floor dry is also critical. Use a terry cloth or a towel to clean the floor. Steel wool and other abrasive tools should be avoided since they can harm the marble tiles.
Sir Grout Pittsburgh is a great alternative for giving your dull surfaces a lovely new shine, as you can see in the before and after pictures. Our skilled technicians can improve any stone surface using our top-notch stone polishing procedure. We have years of expertise as a leading company in the hard surface restoration industry, giving reliable solutions to countless satisfied consumers. Don't hesitate to call us at
(412) 927-0202
or fill out the "Schedule a Free Quote" form on this page to schedule a free consultation today. Don't forget to subscribe to our
newsletter
to keep up with our latest news and promotions.